Just two weeks after Hurricane Eta hit Central America, causing devastating flooding and landslides in Nicaragua, Honduras and Guatemala, the region faced a new threat in Hurricane Iota. On Monday November 9th, the strongest storm to date slammed the coast of Nicaragua, just 15 miles from where Eta struck, with winds up to 155 miles per hour.
To date, Hurricane Iota has impacted at least 40,000 people in the region and is expected to have lingering rains until the end of the week, leading to significant flash flooding and mudslides. Large and destructive waves are expected to accompany the surge as the storm could raise coastal water levels "as much as 15 to 20 feet above normal tide levels".
The severity of the societal and economic impacts of these two hurricanes is yet to be seen. One major worry is that the number of COVID-19 cases, which was already wreaking havoc in the region, could dramatically increase as access to protective materials is difficult and compliance with social distancing guidelines are impossible. Another major concern is imminent food and economic crisis that the region will enter into as well as the metal health of all those affected by this traumatic event.
[SITUATION ON THE GROUND]
[Update 26.11.2020]
In Guatemala, there are more than 150 people missing, and this number is expected to rise. The most affected people still cannot return to their communities due to high water levels or because they lost their homes. The current political crisis in the country worsens the situation of those affected who are being forgotten. Humanitarian aid in shelters is dependent on international and national aid and biosecurity has taken a back seat as the urgency for supplies keeps increasing. The ineffectiveness of the State in disaster prevention and infrastructure and housing in risk areas increased the number of people affected.
As of November 23rd, in Guatemala there had been:
383,613 individuals have been affected
27,158 individuals have been evacuated
7,268 individuals were in shelters
4,847 homes has been damaged
54 roads had been destroyed
26 bridges has been affected
41,698 hectares of crops have been destroyed, affecting the livelihood of 72,896 families
[Previously 23.11.2020]
In addition to the casualties suffered during and immediately following Hurricane ETA, at least 26 people have died from Iota's impacts: 16 in Nicaragua, six in Honduras, two in Guatemala and two in Colombia. Women and minors are among those who have died in the storm. As of Friday, approximately 99.5% of properties on the Nicaraguan Caribbean coast are without electricity, the country's National System for Prevention and Attention to Disasters (Sinapred) reported.
As of Monday, there were 55,435 people in 535 shelters across Honduras.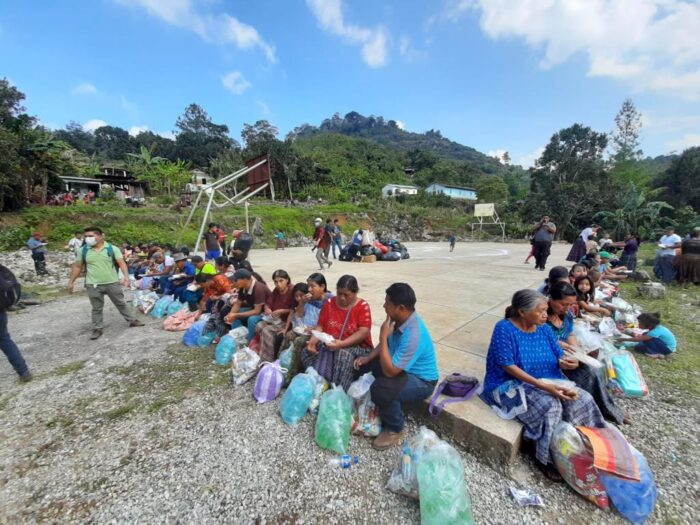 [OUR PARTNERS ON THE GROUND] 
The local Fe y Alegrías in Nicaragua, Honduras and Guatemala have been collaborating in relief efforts since Hurricane Eta hit.
In Guatemala, Fe y Alegría has been collecting food and clothing, as well as made its educational centers available to serve as shelters to support those who are most in need. As of last Wednesday, before Hurricane Iota hit, 83 individuals connected to the Fe y Alegría community had been affected.
There are 4 Fe y Alegria communities in a situation of serious risk and vulnerability and 8 others that have been affected. Edilson Chun, the director of Mulrigrado school said he "had never seen something like this, what is most needed is psychological help, is that you cannot forget the block of water, it was immense, it went into the town … I will never forget that, I cannot go back to where my house was." illustrating the severity of the situation.
In Honduras, Fe y Alegría has focused the immediate response has focused on basic needs (biosecurity to prevent COVID and provide access to water, food, blankets and clothing) for more than 700 people, a number projected to increase.
The Jesuit Province of Central America released a three-phase plan to continue supporting hurricane relief efforts and the preparation to rebuild. Although it is extremely difficult to quantify the impacts of these hurricanes and the help that will be needed, our partners' previous experience in dealing with emergency responses allows for a realistic plan to be developed. Each phase is a modest, but effective way that will benefit many families in the areas where the Jesuits collaborate. The plan is estimated to need at least $145,000 USD.
(1) Emergency Phase: With support from Jesuit and non-Jesuit parishes, as well as Fe y Alegría, people were led to secure shelters where they have been offered food, drink, lodging and spiritual and psychological attention. After finishing this first week, it is estimated this type of assistance will be needed for another two weeks.
(2) Prevention Phase: There are many people who have not been displaced from their homes, but need food kits due to the impact of the hurricanes in their communities and surrounding areas. In this phase, it is estimated that support will be needed for at least 2-3 weeks, or until stability has been achieved. Food kits include grains, oil, water, milk, a PPE kit, one flashlight + batteries and more. This phase will be the longest, as working conditions in the region have become unsustainable. Aid will be needed in order to cover the costs for the estimated 2-3 weeks, and the number of people in need during this phase is projected to increase significantly as time goes on.
(3) Recovery and Rebuilding: Each entity with intentions to aid in building back, will have to present a Rebuilding Plan to budget the economic help they will need. While each entity presents its Rebuilding Plans; a top priority will be to provide citizens with zinc sheets. At least 70% of the amount needed in this phase will be used to repair the homes of affected families. Additionally, at least four parishes and chapels in Honduras and five Fe y Alegría schools in Nicaragua have been flooded by Hurricane Iota and are in need of repairs.
[WHAT CAN YOU DO?]
As Central America continues to face this increasingly difficult and tragic challenge, in a year that has already seen the COVID-19 pandemic exacerbate existing inequalities, know that you can help!
To support hurricane relief efforts, click here.