The city of Boa Vista in the state of Roraima in northern Brazil, bordering Venezuela and English Guyana, is the main port of entry for many migrants, mostly from Venezuela, Guayana, Haiti, and Cuba. In the San Vicente neighborhood of Boa Vista, the São Francisco Xavier community center is strategically located near the international terminal and many migrant shelters. Founded by Fé e Alegria do Brasil in 2022, the center provides meals, personal hygiene supplies, and socio-educational and recreational activities for the children of families who are in need. Most of the families seeking support at the center are Venezuelan migrants who regard Roraima as a temporary place to live as they search for opportunities in other states in the country. Many of the families who the center serves are single mothers and their children often suffer from various illnesses and malnourishment.
Venezuelan Migration in Brazil
According to a report published by the Brazilian Government, the United Nations estimates that 7 million Venezuelans have left their country and Brazil has become the country with the fifth highest number of Venezuelan migrants. The Brazilian Federal Subcommission for the Reception, Identification and Control of Migrants states that the Venezuelan migration flow remains constant. The Operacion Acogida report from August 2022 shows that 778,045 Venezuelans have already entered Brazil. From January to August 2022, more than 100,000 people arrived through Pacaraima, a neighboring city of Boa Vista, seeking better living conditions.
Fé e Alegria do Brasil's main goal is to ensure that children enrolled in the São Francisco Xavier Center have access to nutritious and balanced food daily. The center has the capacity to serve up to 200 Children per day in two shifts (8 – 12 am) and (1 – 5 pm) but the number of children per day varies due to the high turnover rate of migrant families. Even still, an estimated 160 vulnerable children, selected using Brazil's SUAS (single social assistance system criteria), receive breakfast, lunch, and an afternoon snack through this new program.
Two cooks prepare the meals daily by following a menu designed by a volunteer nutritionist. The nutritionist also offers health and nutrition education to the children and families. The prepared meals include protein, carbohydrates, fruits, and vegetables with a focus on the quality of the meals provided over the quantity of children served. Furthermore, the teachers at the center have also developed activities that reinforce the importance of eating nutritious foods, especially fruits and vegetables, with the children. The meals are served buffet style, giving the children more autonomy while also reinforcing lessons about nutrition and promoting independence and self-worth.
160 children assisted per day in two shifts.
Children from 6 to 12 years old are prioritized
Older children who participate in other FyA Programs also receive aid. 
35,200 meals prepared in five months.
3,520 lunches – 1,760 breakfasts, 1,760 snacks per month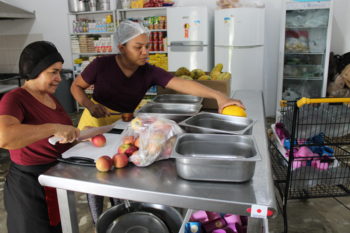 "What we do through this program is to offer quality food. We always strive to make the most of our resources so that each child is offered sufficient and nutritious food. Children need quality food, proteins, vegetables, carbohydrates and fruits, this is why our plate might cost a little more."
Jose Alberto Romero Blanco, Reginal Director of Fe y Alegría Brazil